Monday, March 24th, 2014

The key to a great book is always editing. Make sure your book is polished before it goes to publication.
Read more
Tuesday, June 11th, 2013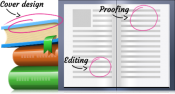 You've finished your manuscript and the next step is professional editing. But choosing the kind of editing you need can be frustrating because of the inconsistent usage of the terms used to describe types of editing.
Read more