Hey, authors! We're super excited to team up with MediaBistro's Self-Publishing Finishing School to offer you a discount. It starts this week and it isn't too late to register!
April 3 – May 8, 2013 | An Interactive Online Event 
Self-publishing and e-reader technology have changed how books are created and sold. In Mediabistro's Self-Publishing Finishing School, you'll discover the steps to self-publishing success. Whether you've just started writing your book or are ready to publish, we'll walk you through the process of to designing, marketing, publicizing, and selling your eBook. Learn from world-class publishing experts like Mark Coker (founder, Smashwords), Guy Kawasaki (author, APE: How to Publish a Book), Scott Steinberg (CEO, TechSavvy), and more. Learn more about our speakers.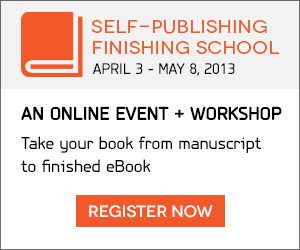 Save $50 with the code BCRUNCH50 at checkout.
In this 6-week interactive online event, you'll:
Watch keynote speeches in our weekly live webcasts and get your questions answered live by industry professionals
Develop your eBook design, publishing, marketing, and sales plan
Receive one-on-one feedback from an advisor
Showcase your work and get constructive feedback from peers
Follow @MediabistroEDU for news and updates for our upcoming event on Twitter and be part of the conversation with hashtag #SelfPubSchool.
Remember to use code BCRUNCH50 at checkout and save $50. You'll be one step closer to making your publishing dreams a reality. Register today!
Comments
comments