A few weeks ago, we hosted a panel at our NY SelfPub meetup on how to create buzz and marketing around your book. One of the topics we covered was using Wix to create a free author website.  
We love Wix, not only because they have a free co-working space (take note, use it for quiet writing time), but they have a beautiful selection of author templates that you can use to setup your author website within minutes. 
It's easy to get setup on Wix to create an author website. Here's how:
1) Create an account on Wix.com
2) Go to 'Create' tab and scroll down to the 'Creative Arts -> Author & Writer' category
3) You will then see a list of templates just for authors. You can preview each template and also edit each one to see how your information would look on the site.
4) Once you've figured out which template you like (we'll pick the Books Seller template for the purpose of this post) you can then click 'Edit' and are taken to a template where you can use a visual editor to set your name, navigation items, pictures for your book.
5) We love the Wix editor because you can set the following tabs: Home, Books, Bio, News, and Contact tab easily. They're all in there as a default.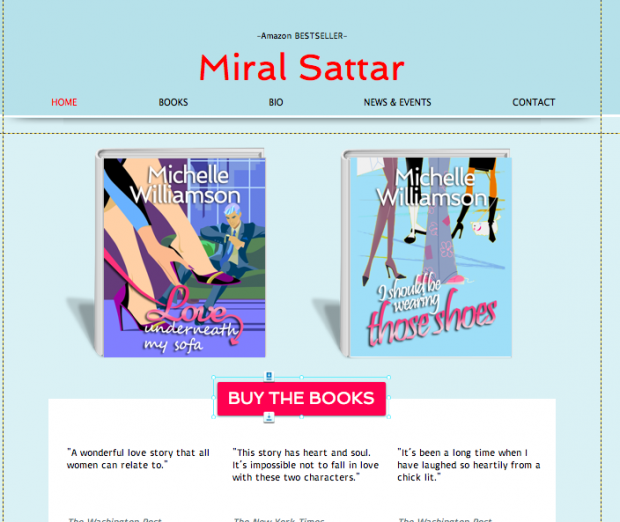 6) This template is great for selling books. All you have to do is click on the 'Buy the books' button and pop in your Amazon, BN, or iBooks links and you're ready to go.
7) You can easily set your social media and a contact form.
We were able to get our Wix site up in less than 30 minutes. The best part is no coding! Also, if you wanted to host it at something like yourname.com or miralsattar.com, then you'd need to upgrade to a paid plan which gives you your own domain for $12/month.
Pros:
It's FREE
You can setup a blog in minutes
You can customize the colors.
There is support staff and physical location in NYC that helps you get setup if you have any questions.
The site is in HTML5 (works in all browsers).
Cons:
You can't really use it as a blogging platform like you could for WordPress or Blogger, or Tumblr. But it's still great if you just want to have an author presence.
However, the site can pull in your Blogger or Tumblr posts.
Comments
comments