As the holidays roll around once again, people are planning out what they are getting for their friends and family.
As book lovers, the go to gift for us is always a book. Oh course we love books, who doesn't? But if you really want to stand out this year in your gift giving, and get a little more creative, here are some more out of the box ideas for really great books for book lovers:
1. Book lover Necklace / Pocket Watches
If you want to go all out fancy this Christmas, pocket watches and other portable clocks are a really popular recent fashion icon. And what better for a book lover than a book inspired clock? Read your books-and stay on time when doing so! Check out this book pocket watch and clock pendant.
2. Leather bound Book Purse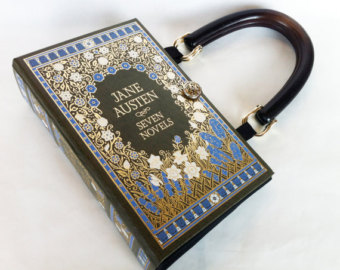 If you want to be a little more fashionable when displaying your book loving appreciation, a book purse is a great gift to give your friends. Its cute, studious, and can hold all of someone's best items-even their books!
3. Book pages bracelet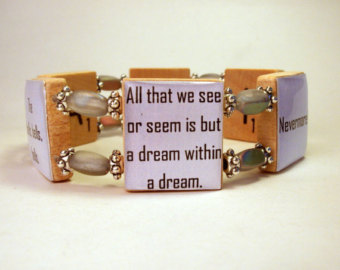 Jewelry is always a great gift, no matter what. So why not make it a little more creative? This book quote bracelet is a great way to show your love for a friend or family member-as well as your love of books!
4. Book lover personalized leather bound bookmarks and pins
If you're looking for a quick, cheap, but cute book loving gift, look no further than a simple bookmark or pin. The bookmark listed here is a personalized bookmark. Its a great way to show your appreciation for your fellow book lover without having to dish out too much dough. If that doesn't suit you, buy a pin with a funny ode to a your book loving culture.
5. Alice in Wonderland book inspired pillow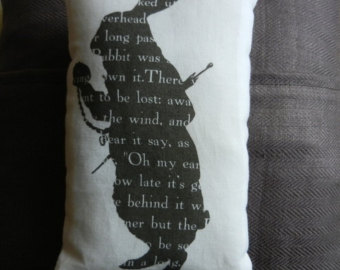 For a great gift that will come into really great use, this Alice in Wonderland inspired pillow is a great choice. The rabbit is a familiar image, but still an artistic image that looks great on any piece of furniture.
6. Book shaped bookshelf lamp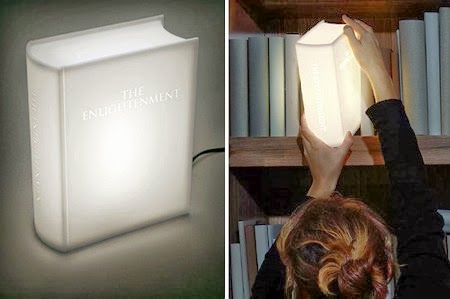 This is another really useful gift. This is a book shaped lamp that fits right into the comfort of the bookshelf. You can use it as a regular lamp on your table, or as a lamp within your bookshelf which is really useful when looking for a book in your bedroom and not wanting to turn on the light or wake anyone up. Its a really useful, outside of the box idea that can be stylized to mirror any book.
7. Frankenstein book page laptop cover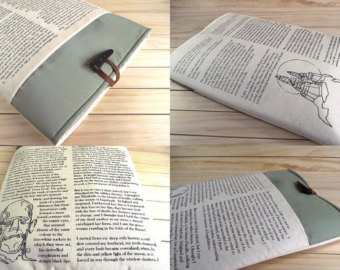 This is an item that every person needs. Not only is it super cool in its nod toward a choice of any great literature (This one is Mary Shelley's Frankenstein), and not only does it include a page with illustration, but it is also necessary for every person to protect their computer from scratch damage.
8. Hollow Keepsake Book Box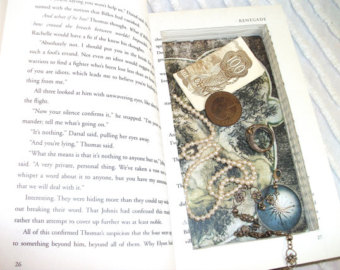 Everyone definitely needs one of these. Every person needs a place to neatly put away all of their knickknacks. From things like jewelry, to tie clips and money, this little keepsake book box is a great gift to give anyone who wants to have a neat place to organize their things. Its also a great place to hide all your favorite things, and stick in your bookshelf!
9. Book inspired ties / bowties
As bowties come back into fashion, and ties stay as a useful accessory for dress, these two choices are great gifts for that male friend who really likes books. You may think its harder to find gifts for male book lovers, but gifts like these will really be appreciated by a true book lover-and they look great too!
10. Dante Alighieri inspired scarf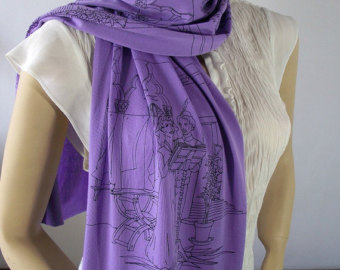 Another great book gift that delves into fashion is this Dante Alighieri inspired scarf. With beautiful illustration, this is a sure loved gift for any fashionable book lover.
11. Book inspired phone cover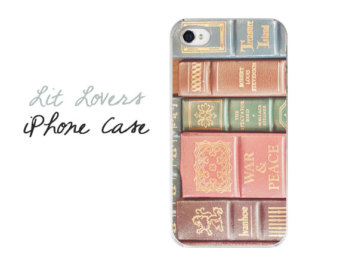 This is another super useful book related gift. Everyone needs a phone cover to protect their phone. Now they can show their book appreciation with this super cute book loving designed phone cover.
12. Book inspired flask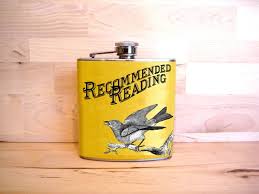 This last gift is a fun one for any book lover. Now you can appreciate you love for books, while also enjoying a great drink. This over 21 gift is great for both male and female book lovers.
Comments
comments