Every week we host #indiechat. We invite industry experts and authors to discuss and share tips on the indie and publishing landscape. #Indiechat is held every Tuesday at 9pm EST. You can check out our previous chat logs on BiblioCrunch Storify.
This week on #indiechat Kate Tilton (@K8Tilton) will be hosting from the BiblioCrunch twitter account (@BiblioCrunch) and Miral Sattar (@miralsattar) will be signed on with guest LM Preston (@LM_Preston). LM will be giving tips on how to run a successful Twitter book launch party.
Hope to see you there!
About LM Preston

LM. Preston was born in Washington, DC.  She loved to create poetry and short-stories as a young girl.  A Techie and Educator for over sixteen years, she started writing science fiction under the encouragement of her husband who was a Sci-Fi buff and her four kids.  She has an obsessive desire to write and create stories of young people who overcome unbelievable odds.  She loves to write while on the porch watching her kids play or when she is traveling, which is another passion that encouraged her writing. In addition to being an author, she's also a Moderator for Yalitchat.ning.org, 2012 Vice President of Mid Atlantic Book Association and 2012 co-chair for the Maryland Writer's Conference.
Giveaway:
1 hour consultation and assistance with a twitter party by LM Preston!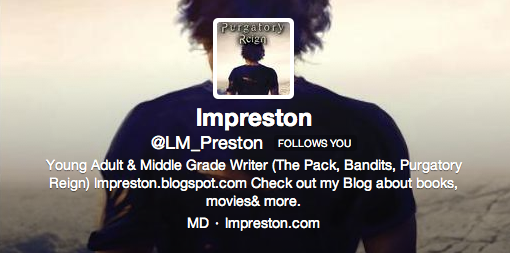 Missed the chat?
Don't worry you can catch up HERE!
Comments
comments