We're excited to have Shirin Bridges, of @GoosebottomBook, as our guests on Tuesday's #IndieChat on 9/9/14.
Shirin Bridges, will be joining us on #IndieChat to talk about the process and marketing basics of putting together a self-published children's book.

Every week we host #IndieChat on Twitter and invite industry experts and authors to discuss and share tips on the indie and publishing landscape. #Indiechat is held every Tuesday at 9pm EST. You can check out our previous chat logs on BiblioCrunch Storify.
Need instructions on how to join? Here's how.
A member of the BiblioCrunch team will be hosting from the BiblioCrunch Twitter account (@BiblioCrunch)
About Shirin Bridges: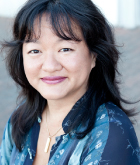 Shirin Yim Bridges has successfully transitioned from author (Houghton Mifflin Harcourt, HarperCollins/Greenwillow, Chronicle Books) to self-publisher, to award-winning publisher (Goosebottom Books). She is the author of Ruby's Wish, a Publishers Weekly Best Children's Book and winner of the Ezra Jack Keats Award; The Umbrella Queen, which madeTIME magazine's Top 10 list for 2008; and Mary Wrightly So Politely, which launched in April 2013 to starred reviews in Kirkus, Publishers Weekly, and Shelf Awareness.
Shirin is also the head goose of Goosebottom Books, and the proud publisher of The Thinking Girl's Treasury of Dastardly Dames, named one of the Top 10 Nonfiction Series for Youth 2012 by the American Library Association; The Thinking Girl's Treasury of Real Princesses, a silver medalist at the 2011 Independent Publishers' Book Awards; and Horrible Hauntings, an International Reading Association Children's Choices winner.
She has taught and discussed writing and publishing at the Asian Festival for Children's Content, the Mendocino Coast Writers' Conference, the Book Passage Children's Writers and Illustrators Conference, Stanford University, Dominican University, San Francisco State University, Illinois State University, and the College of San Mateo. She has lived in many countries around the world, and now nests in California.
Comments
comments