We're excited to have Joyce Chng, @jolantru, on Twitter, as our guest on Tuesday's #IndieChat on 6/17/14.
Joyce Chng will be joining us on this Tuesday's #IndieChat to talk about diversity in book publishing.
Every week we host #IndieChat on Twitter and invite industry experts and authors to discuss and share tips on the indie and publishing landscape. #Indiechat is held every Tuesday at 9pm EST. You can check out our previous chat logs on BiblioCrunch Storify.
Need instructions on how to join? Here's how.
A member of the BiblioCrunch team will be hosting from the BiblioCrunch Twitter account (@BiblioCrunch)
About Joyce Chng: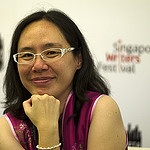 Joyce Chng is Singaporean-Chinese and lives in Singapore. She writes science fiction, urban fantasy and YA. She can be found at A Wolf's Tale, talking about writerly stuff and Life, and as @jolantru on Twitter.
Comments
comments