We would like to thank everyone for their tremendous support. Since our site update on June 5th our membership numbers have doubled! Our team is still hard at work designing new features and tweaking current ones to make BiblioCrunch the best site for authors, publishers, and book professionals alike.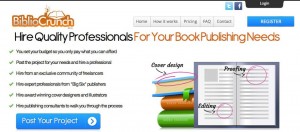 Just some of our new features:
Based on all your feedback we have given BiblioCrunch a face-lift, making the interface sleeker and easier to use.
To meet the growing demand of authors and publishers we have introduced our Concierge Service where you can ask us publishing-related questions.
One of the most popular questions we get is "How do I market my book?" To help our authors with book promotion we just launched Author Promotions.
As part of our updates we are now offering Subscription Plans – don't worry, we still have the Basic Option which is still free! Our subscription plans offer enhanced features for those who want a little extra attention. For example, subscribers will get exclusive access to new features like the Professional Directory, Concierge Service, and discounts to publishing events.
As a bonus, pro subscribers do not have to pay a transaction fee for proposals they win.
There are lots of improvements to come and we want to thank you all for you for your feedback and support as we continue to make BiblioCrunch the best service for authors and publishing professionals. We hope you take advantage of the new features!
Comments
comments